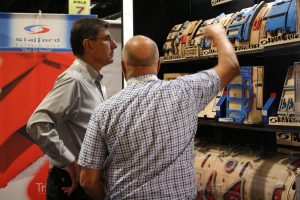 More than 1,600 diemaking, diecutting and print finishing professionals registered for the 2019 Odyssey Expo's live equipment demonstrations, classroom education sessions and awards networking reception. Odyssey organizers were thrilled with a record number of registrations in 2019 and expect similar exciting results for the upcoming event.
"A significant effort went into creating a one-of-kind experience for our industry, and the 2019 Odyssey continued the tradition of offering extreme value for anyone involved in diemaking, diecutting or print finishing," stated Cindy Crouse, IADD CEO. "No other event offers the focused attention on our industry, and the attendees benefit by attending technical seminars, watching new equipment demonstrations and networking with others running businesses with similar market focuses."
Odyssey Expo 2021 will be held at the Wisconsin Center in Milwaukee, a 15-minute drive from the airport and near major interstates for attendees driving in from the surrounding midwest area. After a day at the event, networking can continue at the many night spots located within walking distance.